We incorporate native shrubs into all our gardens. They provide structure, support wildlife, and can usually take whatever weird weather the Midwest throws at them. We choose species that are native to Indiana, and not just to the country or region, to ensure they can handle our conditions.
When picking natives, you can choose the straight species (the wild version) or a cultivated variety (one selected or bred by nurseries for specific traits). These cultivars are often a better choice for gardens, available in a wider range of sizes or with improved bloom or fruiting. Read on for some of our favorites!
Aronia melanocarpa (Black chokeberry)
An excellent shrub for both sun and part shade, Aronia melanocarpa is one of our top picks for wildlife gardens. Small, white spring flowers feed pollinators, then give way to the dark fruit that gives them their name (melano = black; carpa = fruit). You can eat the fruit, although it's tart enough to make you wish you hadn't. But it's packed with antioxidants and is often used in jams, jellies, and juices. If you don't harvest your chokeberries, the birds will be happy to.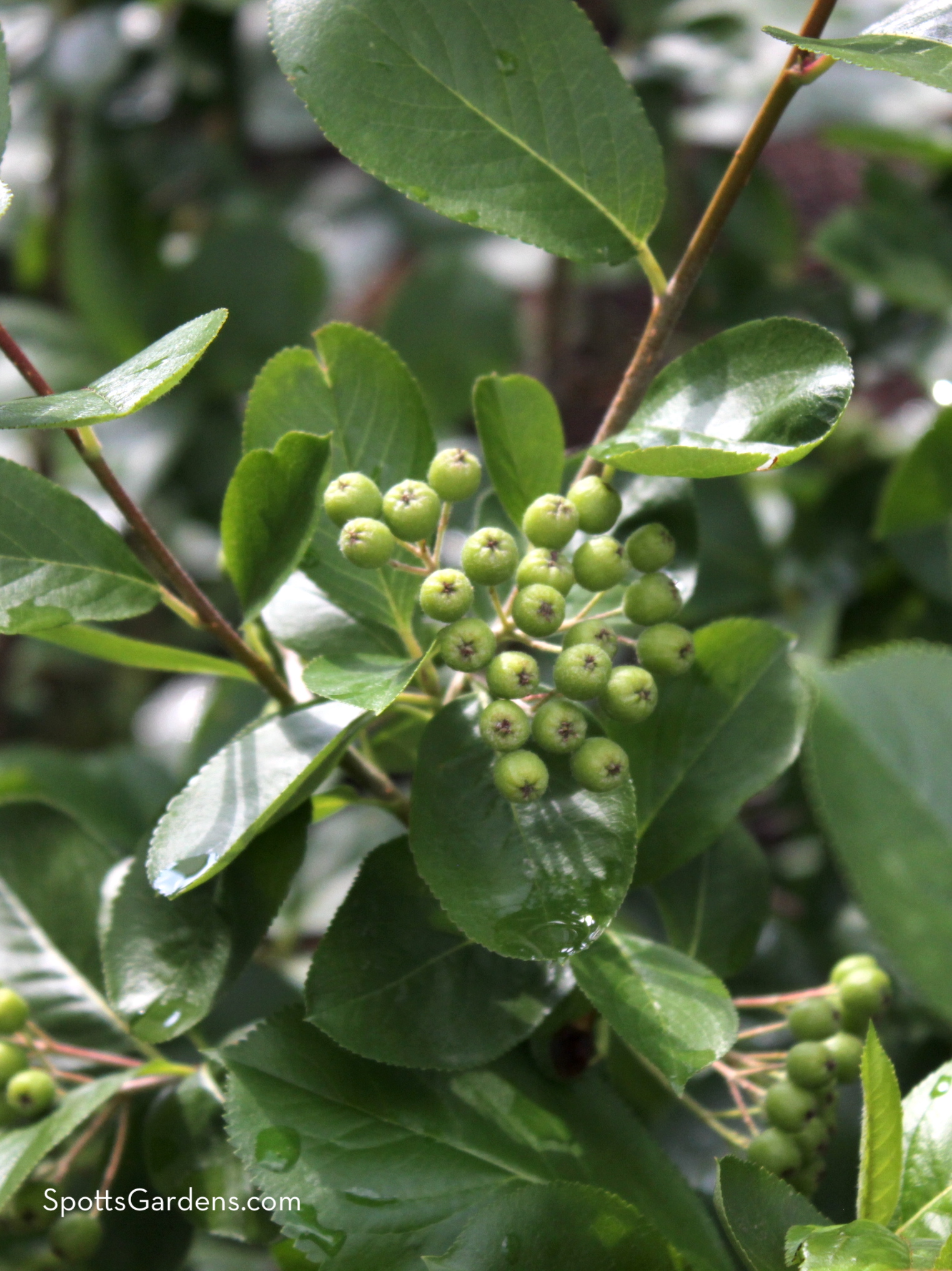 Chokeberry does just fine in average garden soil. It's also excellent in boggy sites; we often use it in the basin of rain gardens. You'll get more compact growth and better fruit production in full sun; plants in part shade are likely to be more leggy. Chokeberry is deer and rabbit resistant.
The straight species has a loose form, growing about 3′ to 6′ tall x 3′ to 6′ wide. But we more often choose the compact version 'Iroquois Beauty' ( 3′ x 5′). We also love 'Low Scape Mound', which at 1′ to 2′ is short enough to use as a ground cover. Other commonly available cultivars include 'Low Scape Hedger' (5′ x 3′) and 'Autumn Magic' (3′ to 5′ x 4′ to 6′). If you want chokeberries for edible landscaping, choose varieties selected for their fruit production, like 'Viking' and 'Nero.'
Cephalanthus occidentalis (Button bush)
With its Sputnik-looking flowers, button bush is a pollinator magnet. Hummingbirds and butterflies both love it!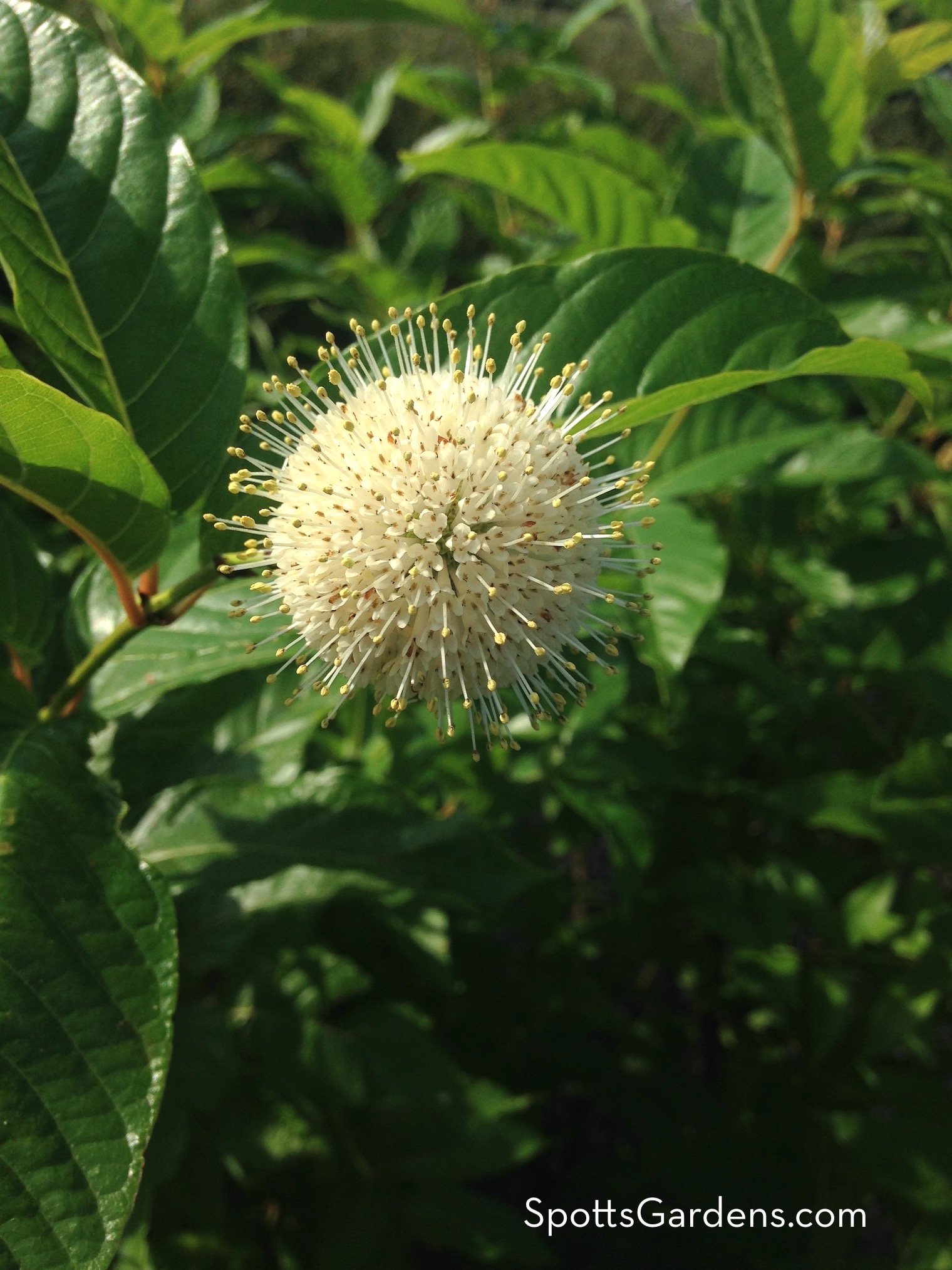 We prefer to use it in swampy soil and rain gardens, where it easily handles long periods of inundation. But button bush is adaptable enough to take average garden soil, as long as it doesn't dry out. This shrub is great in full sun and can handle part sun as well.
The straight species is awfully big for the average garden, since it grows up to 12′ tall and 8′ wide. Fortunately, breeders have recently developed several smaller varieties: 'Sugar Shack' grows to about 4′ x 4′, while 'Fiber Optics' gets a little bigger at 6′ x 6′.
Cornus sericea (Red-twig dogwood)
Red-twig (or red osier) dogwood is one of our favorite choices for winter interest. New stems have a brilliant red or yellow color that stands out in winter, especially when planted en masse against a solid background. Plant this deer-resistant looker in sun or part shade.
We used Cornus sericea in average garden soil for years, but lately it has struggled. Instead, we're using it primarily in boggy spots and rain garden.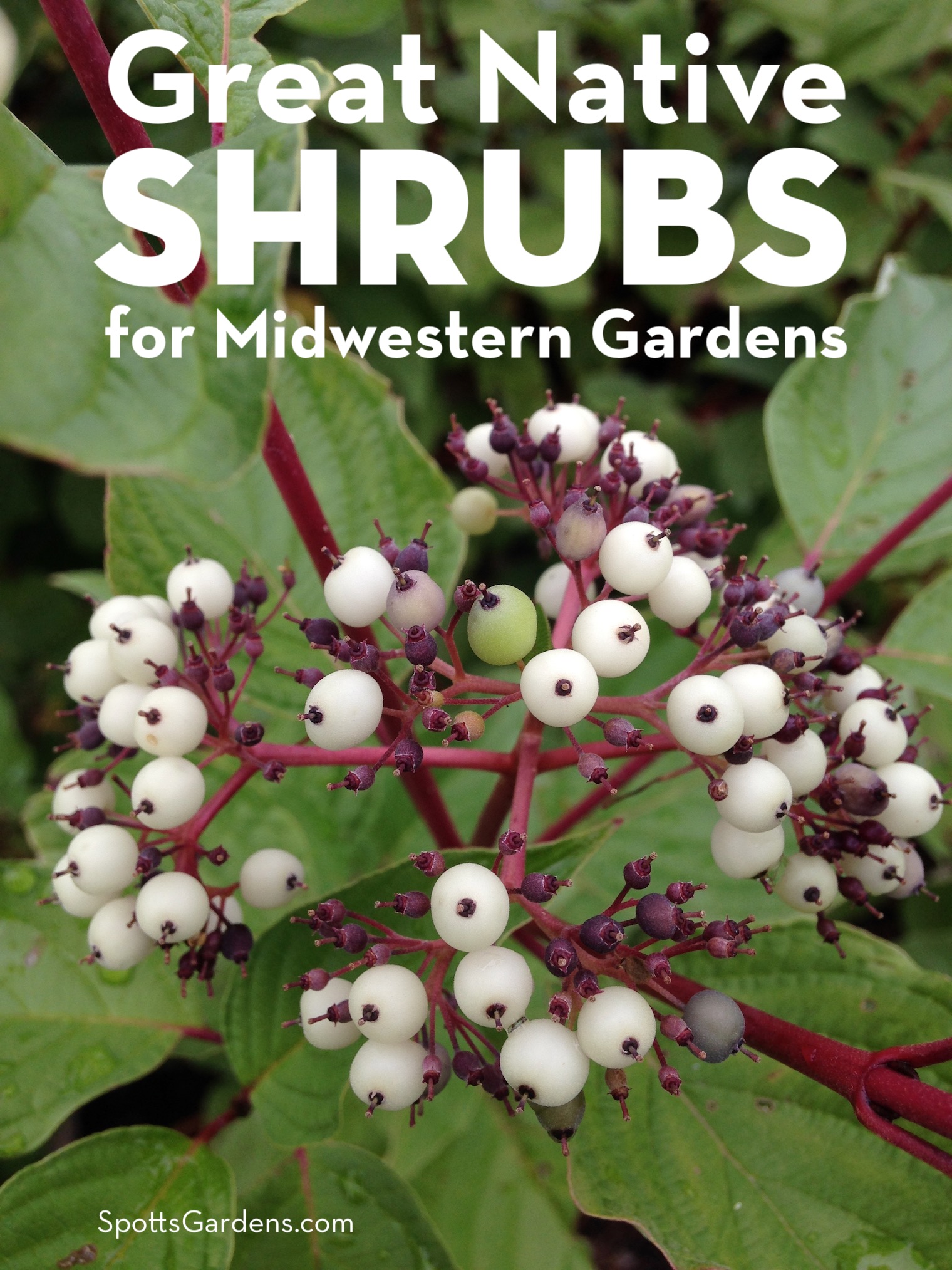 The species form of this shrub is large, at about 6′ to 9′ tall, but many smaller cultivars are available. Our faves are 'Cardinal' (about 6′ to 9′ x 8′ to 12′), 'Arctic Fire' (about 4′ x 4′), and 'Kelseyi' (a tiny 24″ to 30″ tall and wide). While red-twig dogwood is slightly more common, yellow-twig dogwood cultivars like 'Flaviramea' and 'Bud's Yellow' are also spectacular in the winter landscape. (Tartarian dogwood (Cornus alba) and bloodtwig dogwood (Cornus sanguinea) also have bright winter stems, but they hail from Asia and Europe, respectively.)
Because the new stems are brightest, some gardeners cut the entire shrub to the ground each spring (a technique called coppicing). We prefer to leave most of it standing, providing early flowers for pollinators and fruit for birds. We cut out about 1/3 to 1/2 of the stems each year, coppicing only when we want to rejuvenate the shrub completely.
Hydrangea arborescens (Smooth hydrangea)
Our native smooth hydrangea has large white, round blooms. It gets about 3′ to 4′ tall and wide, and prefers a part-sun to part-shade location. It can't handle full sun, so give it afternoon shade.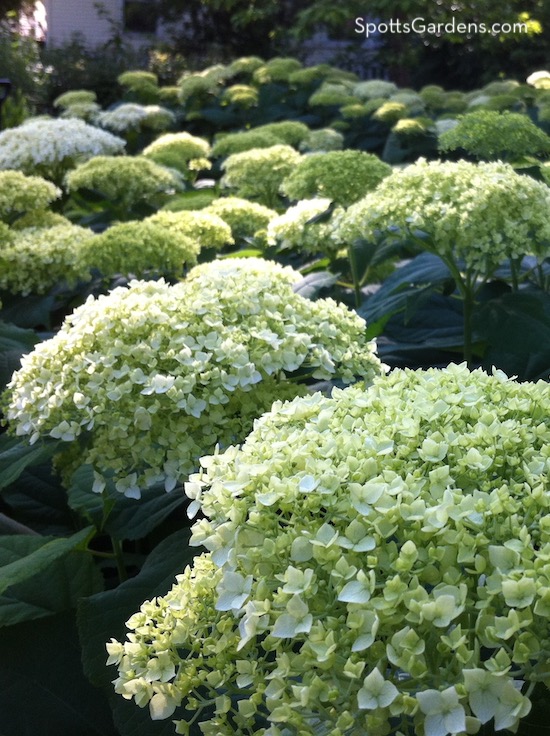 Smooth hydrangea tends to flop late in summer as the puffy flowers get too heavy for the stems. Because it flowers on new growth, we cut the stems down to about 18″ to 24″  each spring. Leaving old stems a foot or two tall provides a frame that helps hold up the new stems.
In nurseries, you'll find the old standby 'Annabelle,' along with the newer 'Incrediball' line, all of which grow larger than the species. The cultivated varieties have very large, round blooms that are sterile, rather than the pollen-rich flowers of the species. So if you're planting for pollinators, choose the straight species.
Ilex verticillata (Winterberry)
Ilex verticillata is a knockout in the winter garden. Unlike its evergreen cousins, this native holly drops its leaves to reveal bright red berries in early winter. Winterberry looks spectacular massed, and the cut stems are a great addition to winter arrangements. Deer-resistant winterberry is also a good choice in wildlife gardens, with flowers for pollinators and berries for birds.
Winterberry does best in full sun, but it can tolerate part shade. It's perfectly happy in average or wet soil. Like all hollies, it prefers acidic soil, which is in short supply in central Indiana. So plan to add soil sulfur to the soil around your winterberries each year.
In order to get the brilliant red berries, you'll need a male pollinator for about every ten female shrubs. While the straight species can get up to 12′ tall, cultivars offer compact size and more berries. Our favorites for smaller spaces include 'Red Sprite' (female; 3′ x 3′) and 'Jim Dandy' (male; 3′ to 6′ x 4′ to 8′). The 'Little Goblin' series gets about 4′ tall and wide, as does 'Berry Poppins.' For shrubs in the 6′ to 8′ range, check out 'Berry Heavy' and 'Mr. Poppins.'
Lindera benzoin (Spicebush)
One of only a handful of shrubs that thrive in heavy shade, Lindera benzoin is our first choice for naturalized shady areas. This native shrub grows about 6′ to 12′ tall and wide in a gently rounded shape. Shrubs growing in shade have a looser form. Spicebush is deer resistant and develops a beautiful yellow fall color.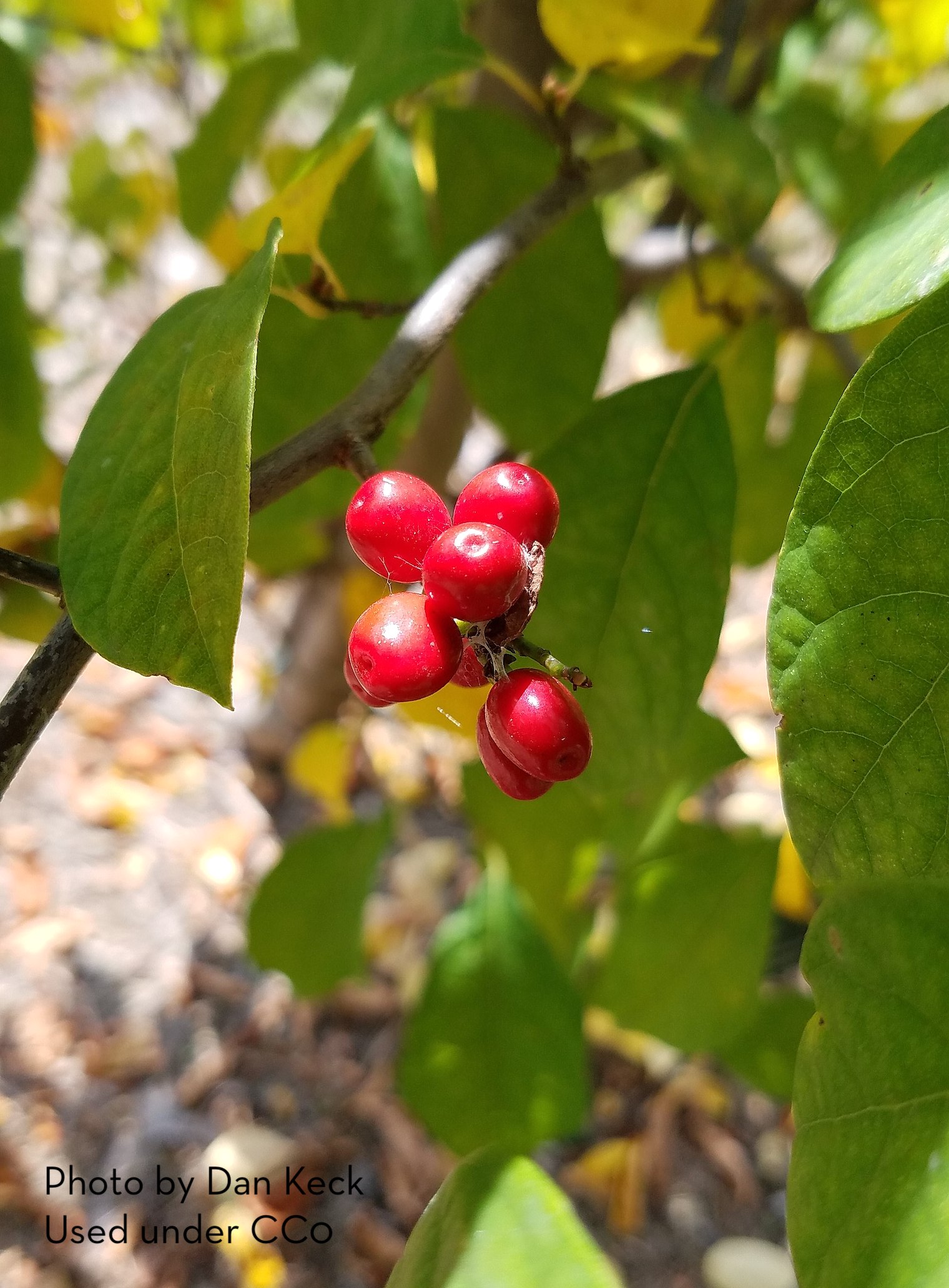 Like winterberry, spicebush is dioecious; male and female flowers occur on different plants. Tiny flowers bloom along the branches of both male and female shrubs before the foliage emerges. But in order to get the bright red, allspice-flavored fruit on the female plant, you need a male plant to pollinate it.
Spicebush takes it name from the spicy scent given off by crushed leaves and twigs. Lindera benzoin is a must in larger butterfly gardens; it supports several species of butterfly and is the host plant for the spicebush swallowtail butterfly. Birds gobble the high-fat berries.
Physocarpus optifolius (Ninebark)
An ideal shrub for bringing color to the garden, Physocarpus opulifolius is native to Indiana stream banks and damp thickets. As the shrub ages, the bark peels back, revealing reddish to brown layers that give it the common name ninebark. Clouds of tiny flowers in spring are good for pollinators.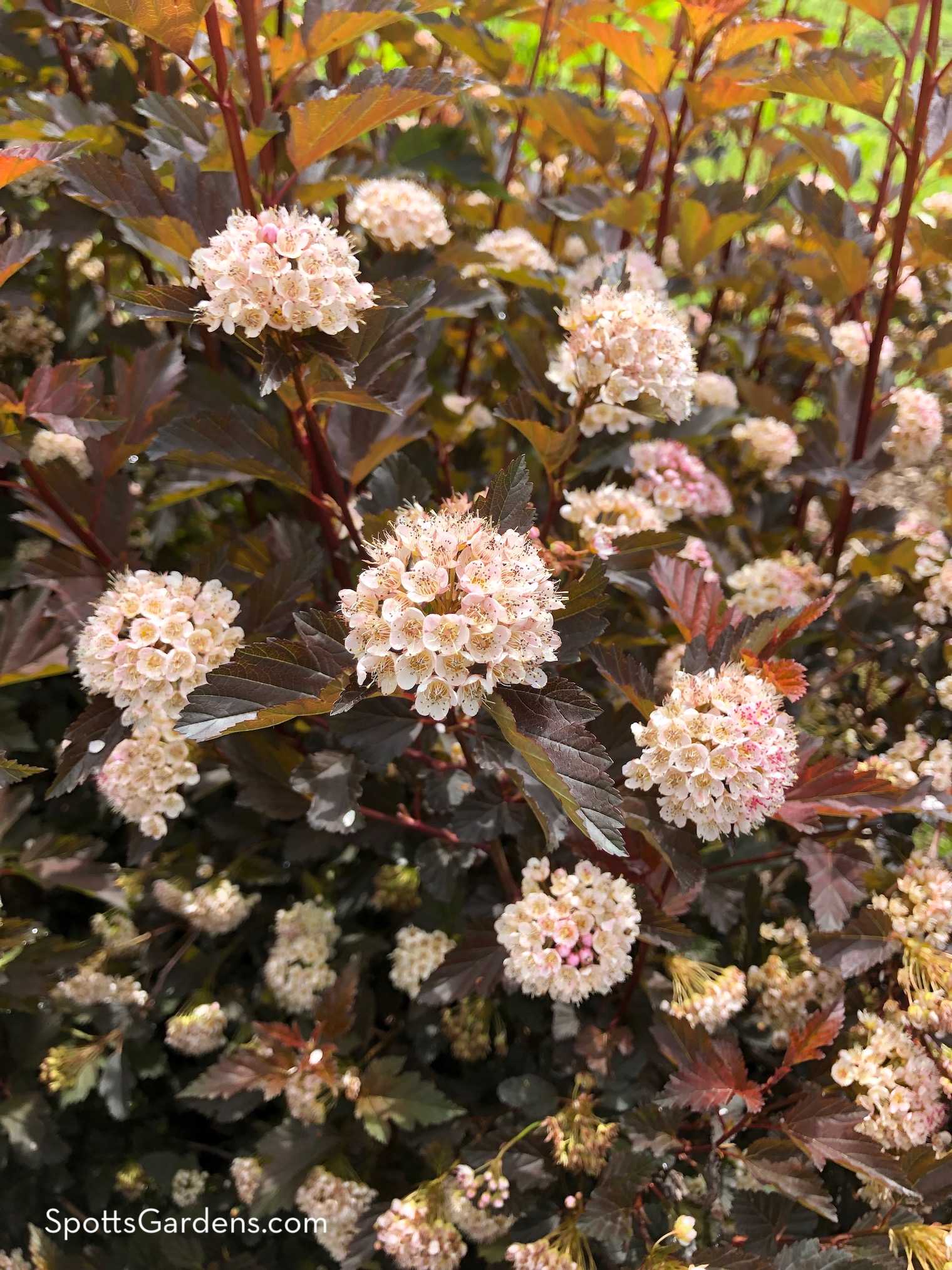 While the species is green, plant breeders have created varieties that boast burgundy or chartreuse foliage. We particularly like mid-sized 'Summer Wine,' which grows about 5′ to 6′ tall and wide. For shorter borders, consider 'Little Devil' or 'Tiny Wine', both of which grow about 3′ to 4′ tall and wide. Purple-leafed cultivars are more common, but you can also find varieties with yellow-green leaves ('Dart's Gold', 'Festivus Gold').
All ninebarks prefer full sun and decent soil. But the straight species is more flexible, handling a little shade and a wide range of difficult soils. The cultivated varieties are prone to drooping when they dry out, so plan to water during dry spells. Ninebark needs little pruning, but you can rejuvenate oversized ones by cutting them to the ground in spring.
Viburnum dentatum (Arrowwood viburnum)
While Indiana is home to several species of viburnum, we're particularly fond of arrowwood. With strong, straight stems once used to make arrows, Viburnum dentatum boasts tiny spring flowers that turn into fruits in summer. While the fruits are technically edible by humans, we prefer to leave them to the birds.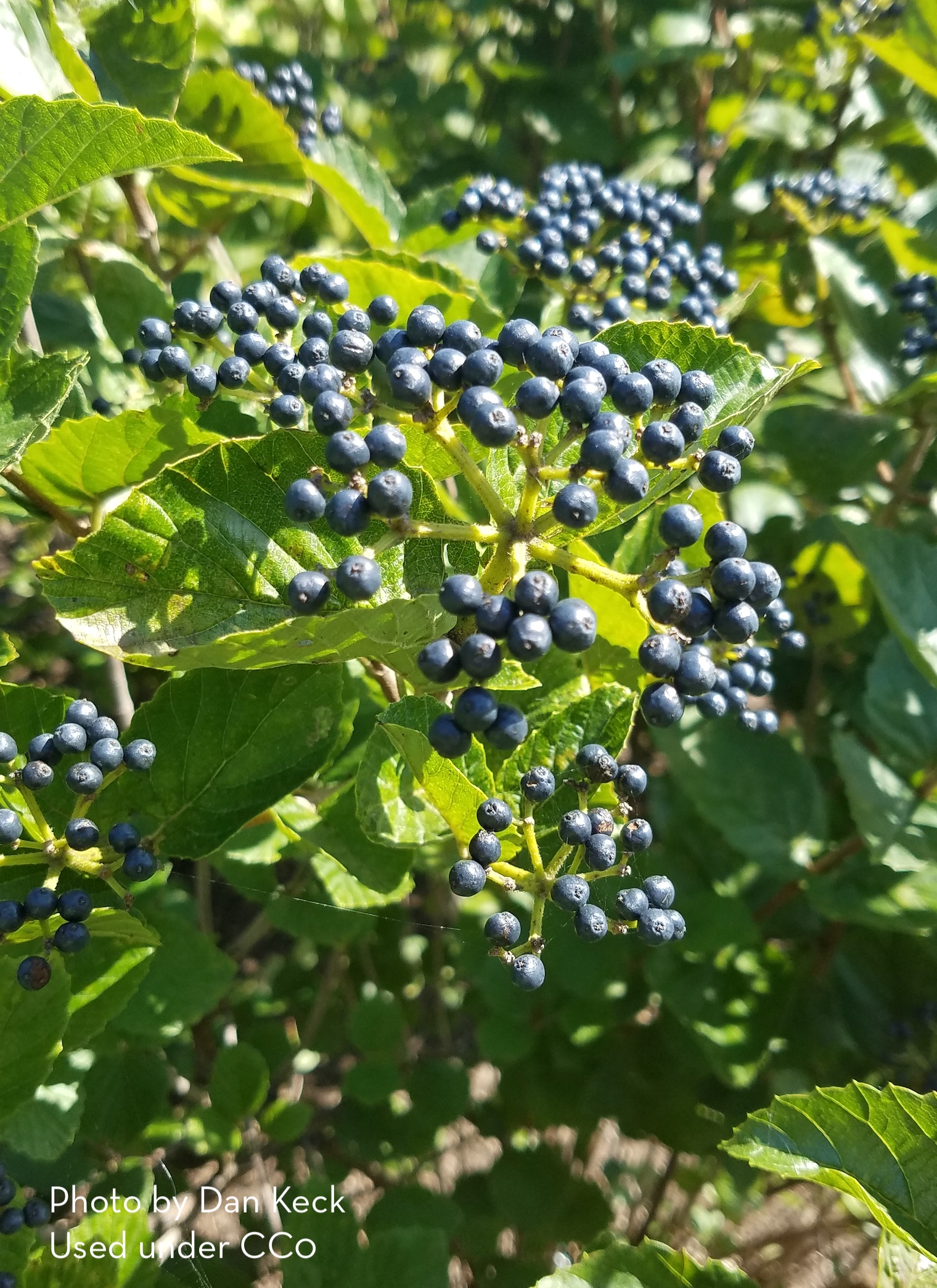 Viburnum dentatum thrives in full sun and average soil. It can handle part shade, as well. Deer resistant and tolerant of black walnuts, it's excellent as a thick, wildlife-friendly screen.
The species grows about 6′ to 10′ tall and wide. For use in gardens, we prefer 'Blue Muffin', which grows about 5′ to 7′ tall and wide with showy blue fruits. For screening, we love the large cultivars 'Chicago Lustre' (10′ to 12′ x 8′ to 10′) and 'Autumn Jazz' (6′ to 10′ x 8′ to 12′); both have especially rich fall color.
Add Native Shrubs to Your Garden!
We can help you choose just the right natives for your outdoor space. Contact us today and tell us about your garden!