As the light changes in fall, we replace crispy summer annuals in our pots with cold-tolerant plants for autumn. We plant fall containers in mid-September so we can enjoy containers for fall well past the first frost.
Choose Cold-Tolerant Fall Annuals
The average date of first frost in central Indiana is around October 15, so we pick plants that can handle cold and frost. The safest choices are cold-hardy; they can shake off short periods of freezing temperatures down to about 28 degrees F.
Our hands-down favorite annuals for fall are cold-hardy ornamental cabbage and kale, which hold their color and form for a long time. Both cabbage and kale offer good structure and wonderful tones of white, green, pink, and purple.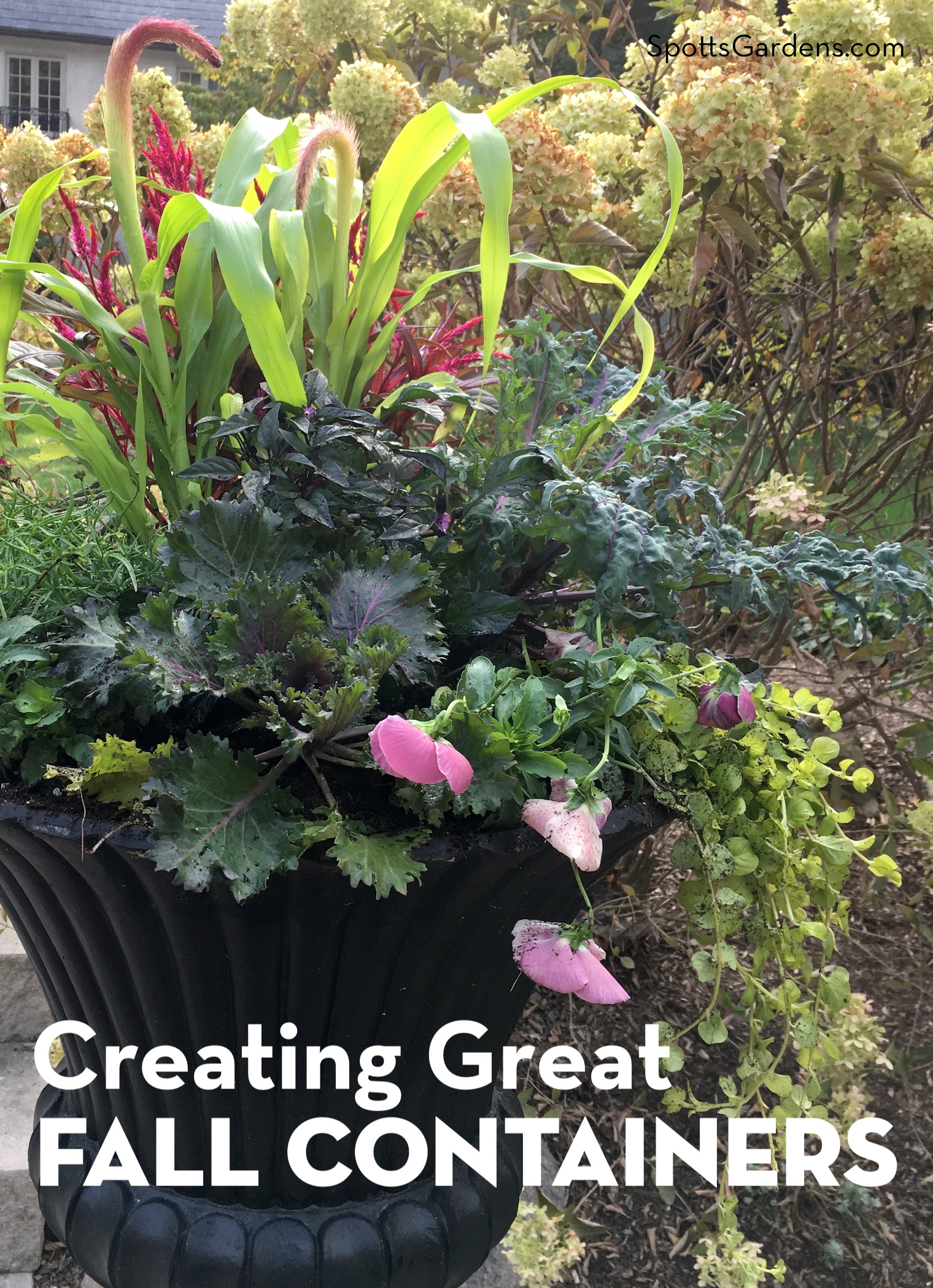 Pansies come in a rainbow of colors that are a terrific foil for cabbage and kale, and they're astonishingly cold-hardy. Pansies planted in the ground in fall may even rebloom in the spring (although that's less likely to happen with container plants).
Frost-tolerant plants can handle some frost (temps down to about 32 degrees F) but not prolonged freezing temperatures. Some of our faves for fall are daisy-like Osteospermum; tiny, brilliant Dianthus; and star-like Symphyotricium (previously known as Aster). Or consider Swiss chard, whose stems glow like a jewel in the sun. Click here for more cold-hardy and frost-tolerant plants.
Mums are gorgeous in bloom, but turn brown and dry once the bloom has faded. We prefer to use them as a supporting player, rather than the star. Don't count on mums planted in the ground returning next year; most grown for the florist trade won't.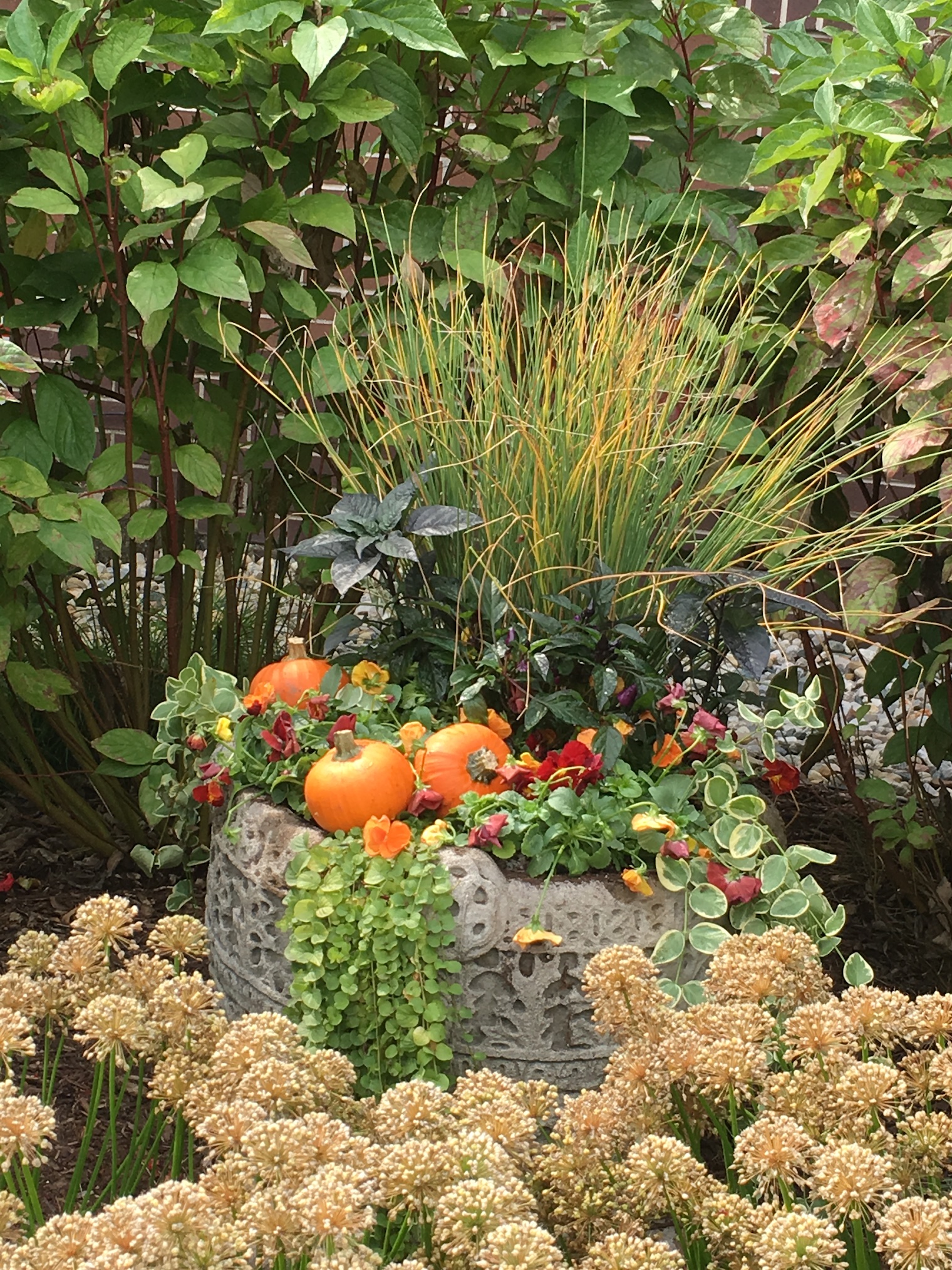 Don't Forget the Perennials
For a pot that offers maximum color and texture, don't rely on annuals alone. Choose a perennial or perennial grass hardy to two zones colder than your own, and it's likely to make it through the entire winter in your container. You can plant it in the garden next spring. Here in zone 6 Indianapolis, we choose perennials hardy to zone 4 for container use.
We're particular fans of coral bells (Heuchera spp.). From lime green to bronze to dark purple, coral bells come in a range of colors that can lighten up a fall pot—even one in part shade. For a plant with even longer interest, check out Helleborus spp. These shade-loving, evergreen perennials actually bloom in winter!
For pots in full sun, sedums are a good choice. Use the creeping kind to spill over the edges of the pot. Perennial grasses are a great choice too, bringing some height to your pots. We like the cultivars of our native Panicum virgatum, which have fine, feathery seed heads. Kitten-tailed Pennisetum spp. are another good choice.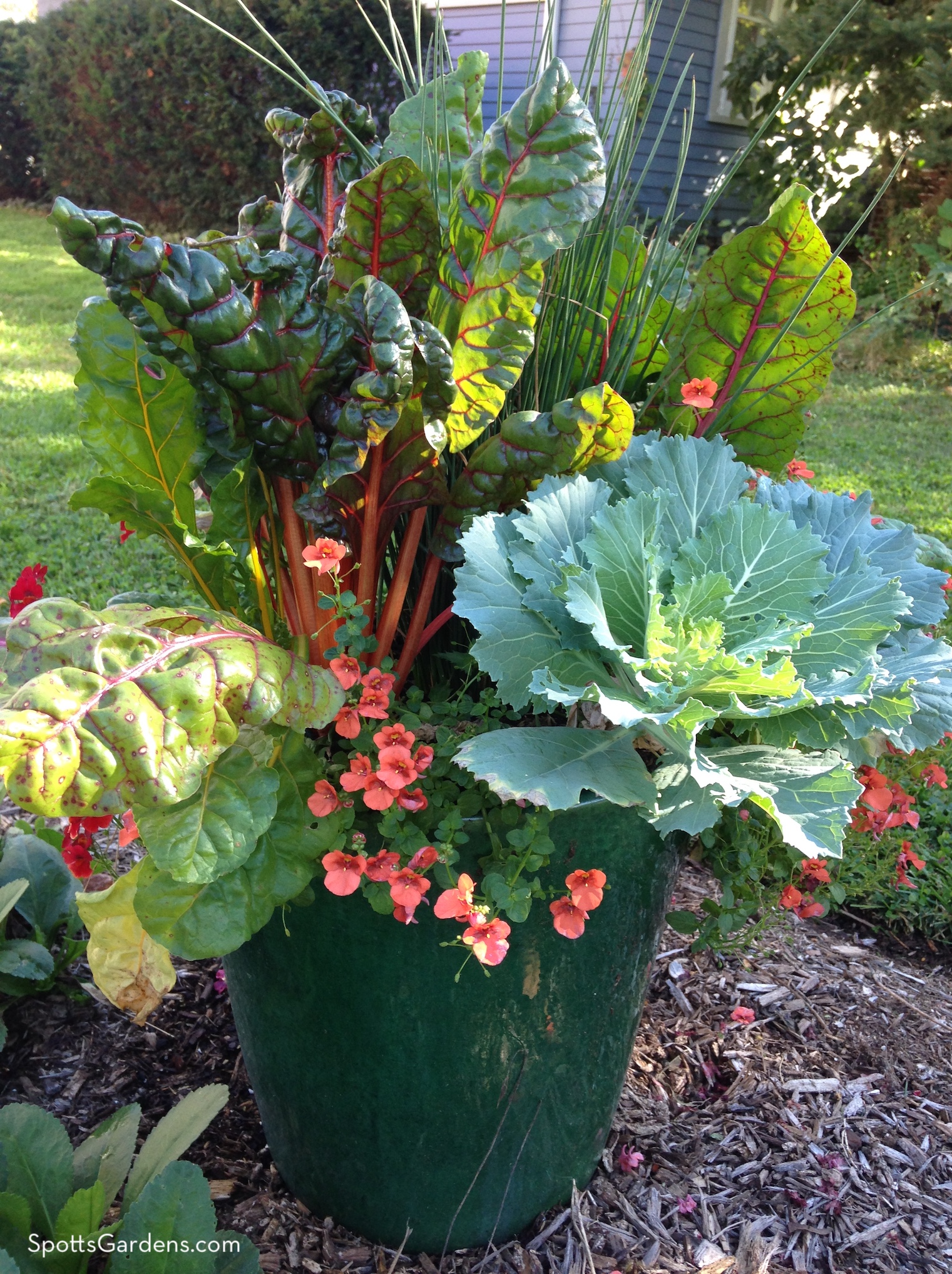 Bling It Up
You can create a fantastic container garden with plants alone, especially if you group your pots for maximum impact. But to make your pots really sing, accessorize!
Tuck small gourds or pumpkins in so that they are slightly obscured by foliage. Cut rose hips from the garden and add them to the pot. Or cut stems from your winterberry, beauty berry, or snowberry to add to your container.
We avoid using pretty Indian corn or graceful millet in our containers. We lose them every year to marauding squirrels!
Water Regularly
During hot and dry weather, you may need to water every day and sometimes even twice a day. During cooler weather, you can back off to watering every two or three days if we don't get rain. Check out our guide to caring for your container garden for more! 
Want a fall container created right at your doorstep? We'll bring the perfect fall plants, plant them in your containers, and clean up after ourselves. Contact Spotts Garden Service today!