The Midwestern garden is starting to bloom! We're building soil, watching for late freezes, and enjoying the flowering trees and shrubs this April.
What To See in the April Garden
Perennials are beginning to peek out of the ground here in zone 6. All that fresh, green foliage looks great after a winter of brown!
The bulb show is underway. Watch look for tulips this month, and possibly even alliums.
In shady spots, watch for spring ephemerals: plants that bloom in spring and disappear later in the year. You might see bleeding heart, or natives like Virginia bluebell (below), bloodroot, or toothwort.
Shrubs are starting to put out their leaves. Many flowering trees, including fruit trees, bloom in the April garden.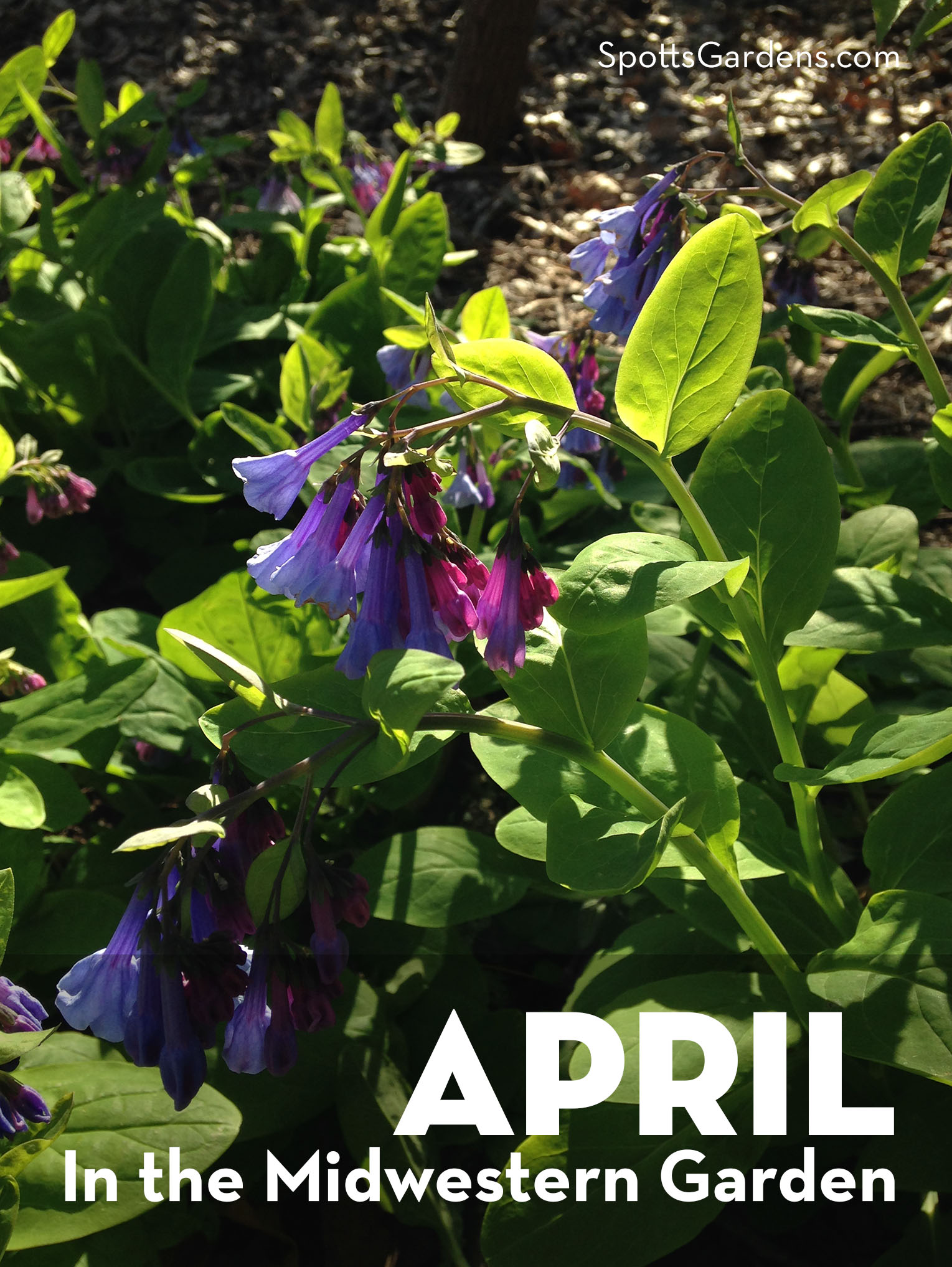 What to Do This Month
Contact us for free estimates on spring garden work in Indianapolis, including spring garden cleanups and spring pruning. And call for projects like these too:
In the Garden
Finish up the last of spring garden cleanups.
Do spring pruning of summer-blooming shrubs and stone fruit trees like cherries, peaches, and plums.
Mulch. We hold off on mulching until the soil warms in mid-April.
Plant new shrubs, trees, and perennials once the ground dries. It's also a great time to edit the garden by dividing and moving existing plants.
Start watching for bagworms, especially in your evergreens. They look like ornaments made of brown needles. Pull them from the tree and grind them underfoot before throwing them in the trash.
Don't fertilize the lawn! Fertilizing in April promotes growth at the expense of root health.
Start mowing lawns at a height of 3.0″ to 3.5″.
In The Kitchen Garden
Wait for the ground to dry enough to plant spring crops. Pick up a handful of soil and squeeze it. If it crumbles when you poke at it, it's dry enough to plant. Soil that stays in a ball is still too wet.
Harden off plants you started inside by gradually exposing them to outdoors. Use a cold frame, or take them out during the day and inside at night.
Plant out your cool-season starts and direct sow cool-season crops like carrots, radish, and lettuce.
Plant asparagus, rhubarb, seed potatoes, strawberries, and bramble fruits when the soil dries.
Prune raspberry canes and grapevines.