Savor long evenings in the August garden. Here in Indianapolis, we're harvesting summer vegetables, weeding and deadheading, and finishing pruning the last of the shrubs. Don't forget the bug spray!
What To See in the August Garden
Plant growth is slowing as days grow shorter. But annuals like zinnias and sunflowers are still going strong in the flower border.
The yard is taking on a hazier, late-summer look here in zone 6. Caryopteris is beginning its bloom, and aster is starting to bud.
Summer produce is coming in from the garden quickly. Look for bare spots of soil to fill with fall vegetable starts.
Butterflies and other pollinators are flitting from bloom to bloom and basking in the sun.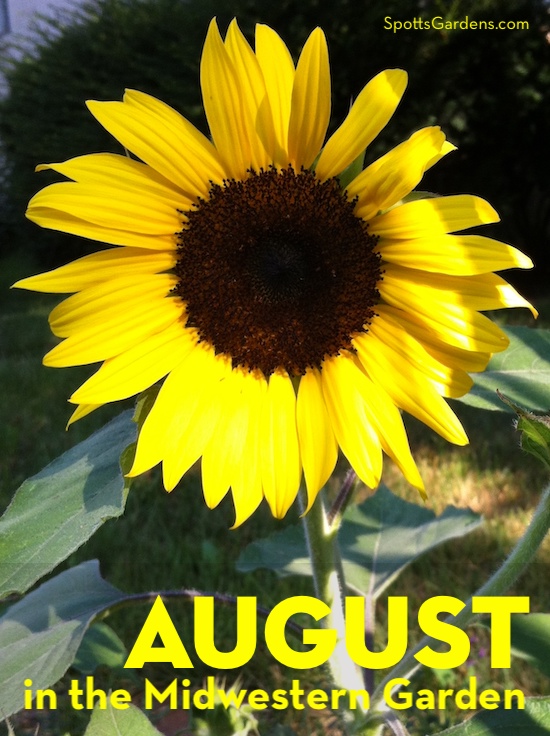 What to Do This Month
It's a great time to focus on bigger projects in the landscape. Contact Spotts Garden Service for a free estimate on late-summer or fall work in your Indianapolis garden.
Completing hardscape projects or improving site drainage.
Designing and installing new gardens.
Shearing hedges. We're also finishing up pruning shrubs and small trees, including fruit trees.
Other Tasks in the Organic Garden in August
Remove spent canes of raspberry and blackberry that bore fruit this year.
Keep harvesting your summer crops, such as tomatoes, peppers, and melons.
Harvest potatoes when the tops yellow and die.
In the fall vegetable garden, transplant crops like broccoli, cauliflower, and Brussels sprouts
Direct sow fall collards, endive, turnip, kale, kohlrabi, fall lettuce, spinach, cornsalad, and radish to harvest this fall.
Harvest early apples and pears.
Keep mowing the lawn at a minimum of 3″.
Mid-August to mid-September is the best time of year to sow a new lawn or overseed bare spots in the lawn.