If changing leaves are the stars of the fall garden, native plants make for a terrific supporting cast. Check out our favorites for fall in Midwestern yards, then add some to yours!
Panicum virgatum (Switchgrass)
Switchgrasses are substantial plants, their upright forms topped by fine seedheads. They look beautiful with nearly anything you put near them, from roses to prairie plants to evergreens. And they're surprisingly flexible, handling drought and periodic flooding alike. Plant in full sun; they're likely to flop in part shade.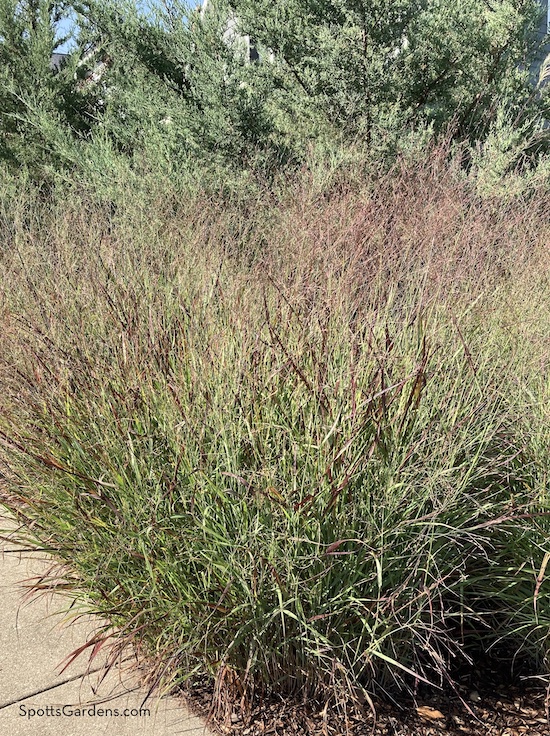 We particularly love the reddish tones of 4′ tall 'Shenandoah' (above) and the olive green of 6′ tall 'Northwind.' Other popular cultivars include 'Heavy Metal,' 'Prairie Sky,' and 'Cloud Nine.'
Thick plantings make excellent cover for insects, pollinators, and wildlife. Our small stand of 'Shenandoah' switchgrass in the Spotts garden is home to a large population of praying mantis, and we often see birds and rabbits there too.
Solidago spp. (Goldenrod)
The long spires of goldenrod look like fireworks in the fall garden. They're also an important source of late-season nectar for butterflies and other pollinators. For garden use, choose one of the more restrained clump-forming goldenrods, which are less aggressive than the ones that spread by rhizome.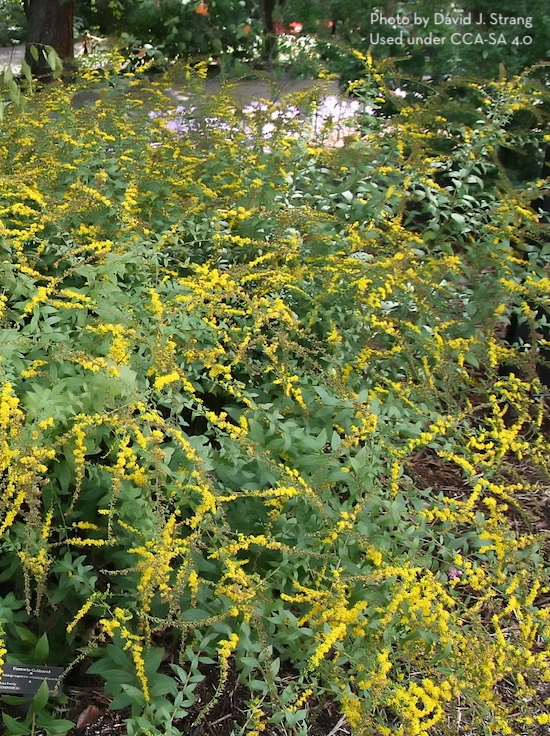 Several different species are native to the Midwest, but we're focusing here on ones suited to the garden. Clump-forming Solidago rugosa 'Fireworks' (above) grows to about 3′ x 3′, making it substantial but not overwhelming. Other compact, clump-forming choices include S. caesia, hybrid S. x Little Lemon, and S. canadensis Golden Baby.
By the way, goldenrod isn't the cause of hay fever. That sneezing is more likely due to ragwort, which looks like goldenrod and blooms around the same time.
Sporobolus heterolepis (Prairie dropseed)
Prairie dropseed boasts airy culms that dance above the mounds of finely textured foliage. We love to use it in mass plantings so the sun can backlight the seedheads. In the fall, the green foliage turns golden orange, then fades to buff in winter. In summer and fall, prairie dropseed takes on the smell of toasted grain or popcorn!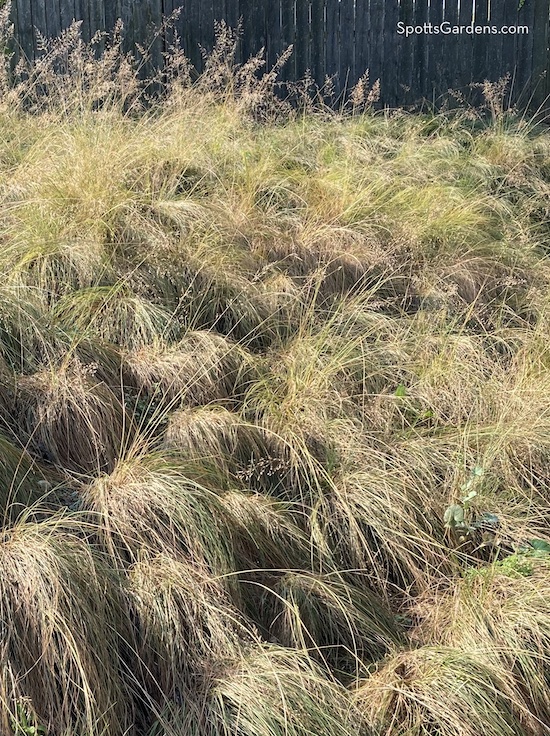 Prairie dropseed requires full sun but isn't fussy about soil. As with most of our native grasses, too-rich soil can make it flop. Once established, it handles both drought and occasional flooding with ease. The species grows to about 3′ in flower. The new cultivar 'Tara' has the same graceful form in a more compact size, topping out at 2′ in flower.
Like switchgrass, prairie dropseed is an excellent food source for seed-eating birds. Its dense cover provides great habitat for small animals. We've also found it to be particularly good at preventing erosion; it's stabilizing a hillside in the Spotts garden.
Symphyotrichum novae-angliae (New England aster; Michaelmas daisy)
In its species form, New England aster is pretty rangy and wild-looking for the garden border. But thanks to plant breeders, we can now choose from pink and purple asters in a range of sizes, from the 5′ tall 'Harrington's Pink' to the dainty 16″ 'Purple Dome.' Check out this trial by Chicago Botanic Garden for a ranking of Symphyotrichum novae-angliae.
New England aster is one of our go-to plants for feeding pollinators in the fall garden. It's particularly popular with butterflies and moths, including migrating monarch butterflies. The mature seeds provide a food source for birds.
Grow New England aster in full sun to light shade in good soil; it prefers a moist but well-drained spot. Aster can get leggy, so we cut it in half once a month from April to June. A monthly chop encourages thicker, shorter stems. And it delays blooming a bit, ensuring your aster flowers in September instead of August.
Punch Up Your Garden with Native Plants
Interested in learning more about native plants? Check out our choices for native perennials, great natives for wet soil, and less-common native choices. And take a look at our Pinterest board for a wide range of Indiana natives.
Ready to plant more natives? We can choose the best ones for your garden. Contact us today for your free estimate.