Brilliant blue skies and chilly winds: October brings us the last bits of summer and the first taste of winter. The garden is on fire with color, so head out and enjoy it!
What to See in the October Garden
Trees and shrubs begin to show their fall colors, from the orange of sugar maples to the brilliant red of the chokeberries.
Grasses finish taking on their fall color. Seedheads and stems in buffs, reds, and pinks lend texture and movement to the yard in fall.
Fruits are glowing in the landscape. Beautyberries sport amethyst-colored fruits, and the red berries on holly and winterberry are shining brightly.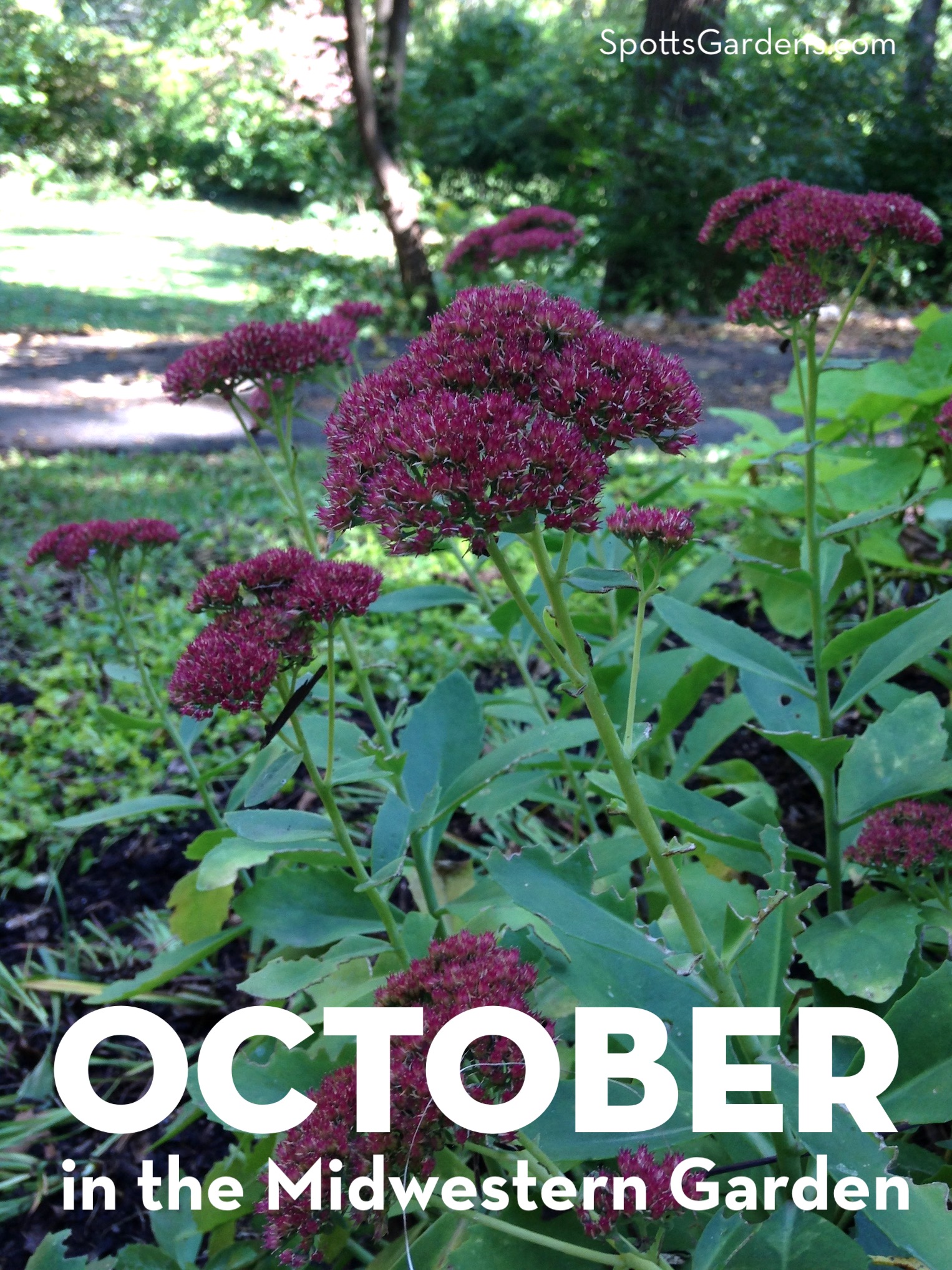 What to Do This Month
Schedule Fall Work with Spotts Garden Service
Contact Spotts Garden Service to schedule landscape work this fall in Indianapolis. Fall is an especially good time for:
Planting perennials, shrubs, and trees, as well as digging and dividing existing perennials.
Installing hardscape and drainage projects.
Scheduling your fall garden cleanup. We'll start preparing the landscape for winter once most of the leaves come down in November.
Other October Tasks in the Organic Garden
Continue routine garden maintenance such as deadheading, weeding, watering, and very light pruning. Hold off on heavy pruning until late winter.
Water your evergreen shrubs and trees. Arborvitae, boxwood, and other evergreens are prone to drying out and developing winter burn, especially if they're also exposed to road salt. Head it off by making sure they get at least 1″ of water a week until the ground freezes.
Dig up dahlias and cannas after a heavy frost (temps below 32ºF). Allow the tubers to dry before storing in vermiculite or peat moss for the winter. If you've grown them in pots, you can move the entire pot into an unheated garage for the winter instead of digging them out.
Mow leaves right into the lawn or rake the chipped leaves into beds as mulch. Set your mower no lower than 3″.
October In the Kitchen Garden
Harvest your fall produce, including Brussels sprouts, pumpkins, winter squash, and the last of tomatoes.
Plant a cover crop in the kitchen garden to replenish the soil. Red clover, winter wheat, alfalfa, and winter rye are all good choices.
Schedule Winter Work with Spotts Garden Service
While the Spotts crew slows down a bit in winter, the colder months are ideal for certain projects. Contact us for free estimates on work suited to winter weather in your Indianapolis garden.