Pull on your muck boots before you head into the yard; it's mud season! In Indianapolis this month, we're hunting for bulb foliage, watching for returning birds, and cleaning up the garden after a grey winter.
What To See in the March Garden
Daffodils, crocus, and tulips are all pushing their way out of the soil in our zone 6 landscapes. Daffodils have round, flat tips on their leaves, while the leaves of tulips are pointed and curl a bit as soon as they come out of the ground. You can see crocus in the photo below.
Forsythia shrubs are an early sign of spring; watch for their brilliant yellow blooms.
Birds are returning to the garden. Scrub out your birdfeeders and fill them up to lure in migrating birds.
Fruit trees and spring-blooming shrubs have formed buds that are starting to swell. When you prune, take some branches inside to force early blooms.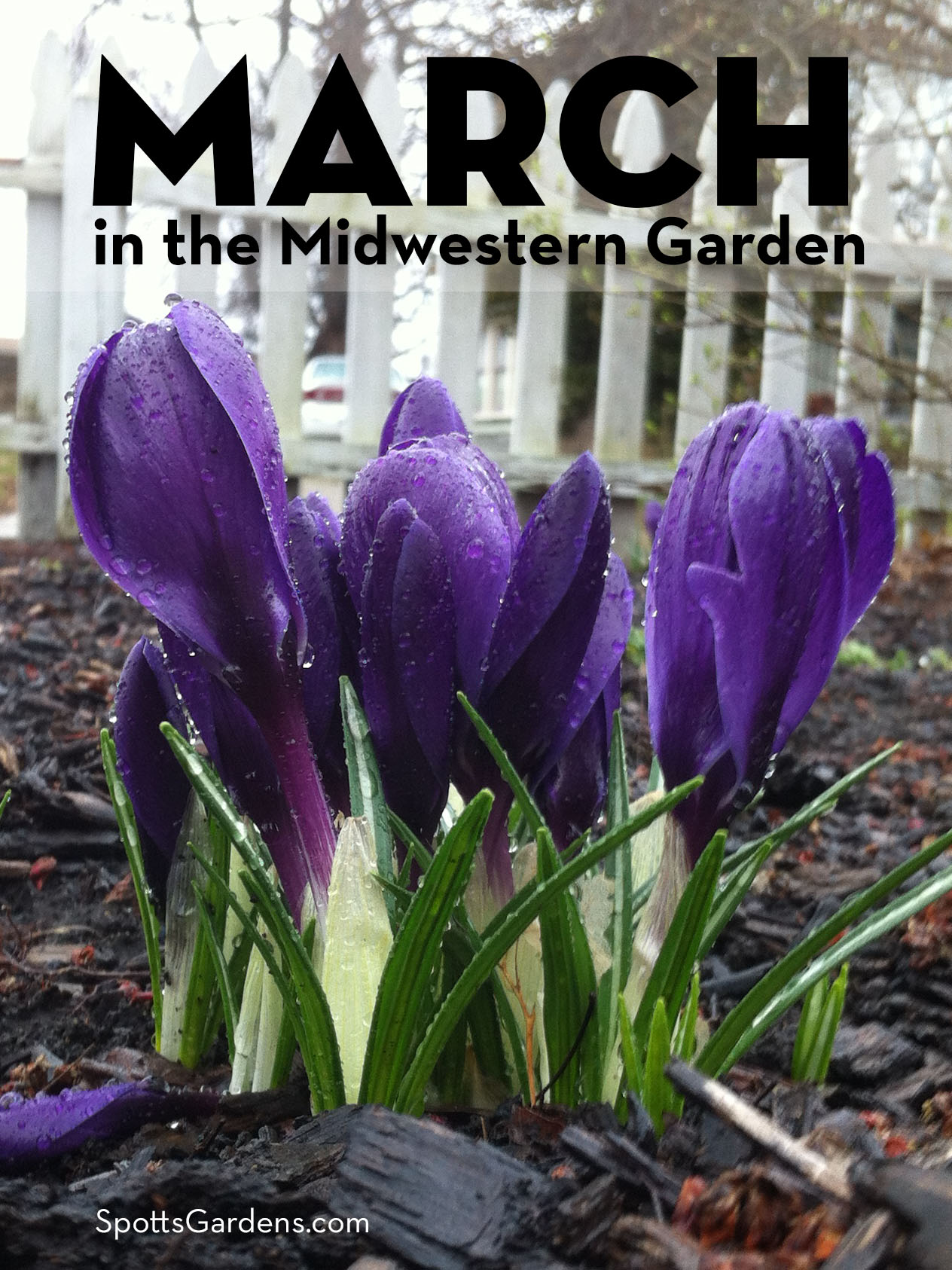 What to Do This Month
Contact us for free estimates on spring work in Indianapolis.
Cleaning up the garden for spring. Now's the time to rake off winter mulch and remove invasive plants. We hold off cutting back grasses and stems that might be harboring overwintering insects as long as possible.
Dormant pruning trees and shrubs, especially young trees.
Pruning apple, pear, and quince trees in early March, before the trees break dormancy. Hold off on pruning stone fruits like cherries, peaches, and plums until they bloom.
Gently fertilizing plants when their buds begins to swell. Thanks to this year's warm weather, we're already seeing bud swell this year! We fertilize by side dressing with compost: laying a light ring of compost around plants that need it and gently scratching the compost into the soil with a cultivator, knife, or hoe.
Designing new gardens; we'll start planting once the soil dries.
Other Tasks in the Organic Garden This Month
Wait for soil to become dry enough to work before doing any planting. Soil should crumble when you squeeze it in your hand; if it sticks in a ball, it's still too wet.
Take the wrapping off of any trees you wrapped for the winter in mid-March. If you wrapped your roses for winter, take those covers off too.
Direct sow peas, potatoes, onions, turnips, radishes, and spinach once the soil has dried. If the soil doesn't dry in March, push that planting back to April.
Once your bulbs finish blooming, you can snap off the stems if you want to. But leave the foliage in place so the plants can store energy to bloom again next year.
Plant bare-root fruit trees before they break dormancy.
Plant warm-season crops inside around the end of March if you're starting them at home. Plan to transplant them out in early May.